John Vanbiesbrouck
1987 Canada Cup home
This jersey shows good wear for a goalie jersey, especially from an international tournament. The are many puck and stick marks visible on this jersey, though they have faded a bit. This one of my first and favorite jerseys, coming a long time ago from S&K.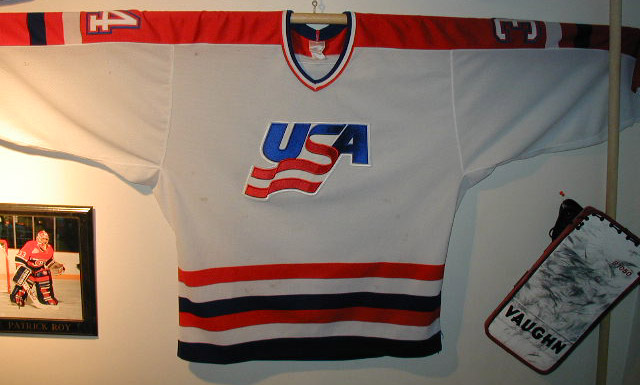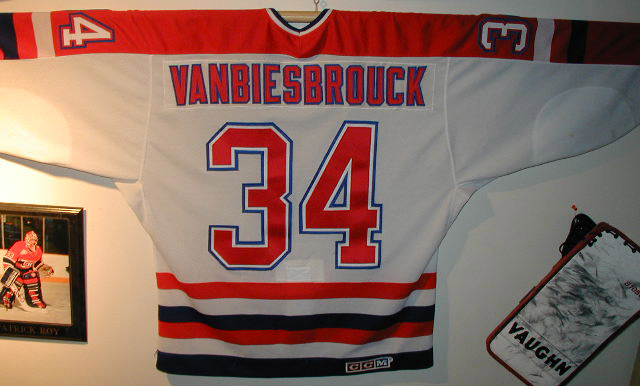 1989-90 Rangers road jersey
This jersey shows very light wear with evident of being washed a bunch, with only a few marks showing. The tag in the neck has size 52G written in blue ballpoint pen, and the fightstrap shows good salting and rust. The jersey came from Meigray with team documentation.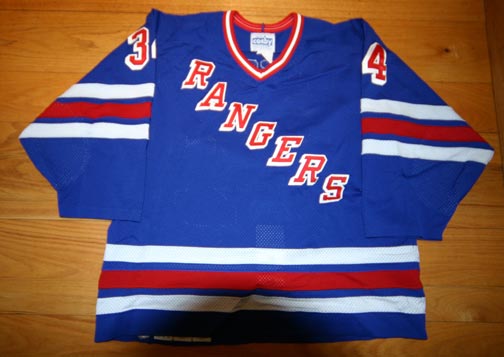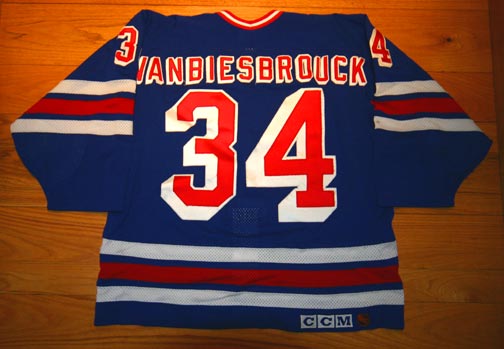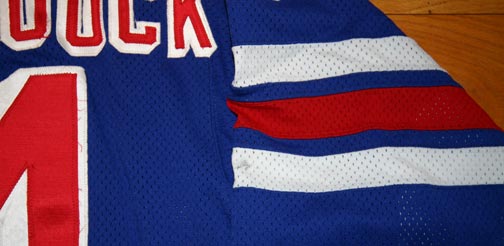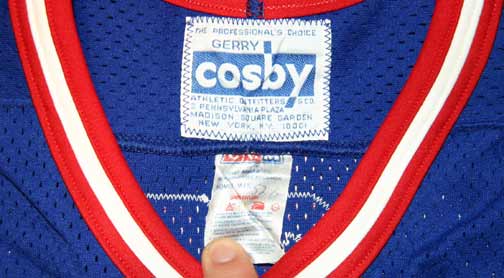 1991-92 Rangers Turn Back the Clock This might be my favorite jersey I own. These jerseys were worn by the Rangers for 13 games this year. I believe Beezer played all but a few. This jersey shows amazing use, with several repairs, many visible stick marks, and post paint on the back, and what might be board paint on the front hem. The photo match on this one is kind of bizarre. The photo is from the cover of a Ranger's game night, but it is a little out of focus. However, the stiching of the black lines on the 75th anniversary patch is a little wierd, and the spacing matches up perfectly to the jersey. I bought this from the late Robert Garland and it has all the Meigray and Rangers documentation.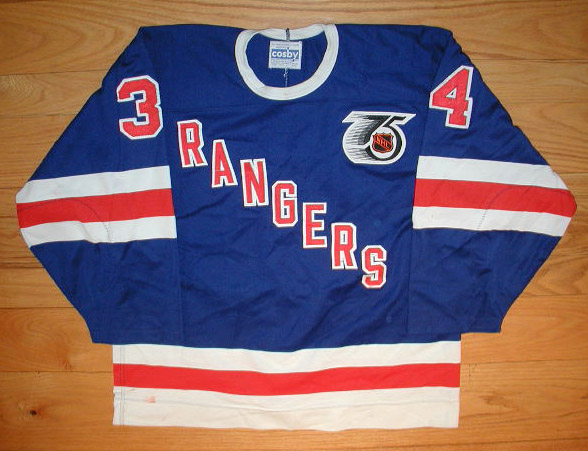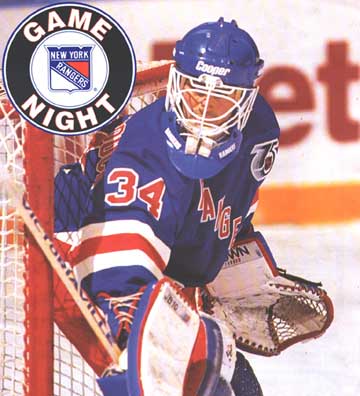 1992-93 Rangers home jersey This jersey shows decent wear. It is pretty small, especially for a goalie, but this was almost ten years ago and Beezer is no giant. The body appears to have been shortened at the hem, with some material taken in from one of the stripes. There a puck and stick marks to be expected. Purchased from Meigray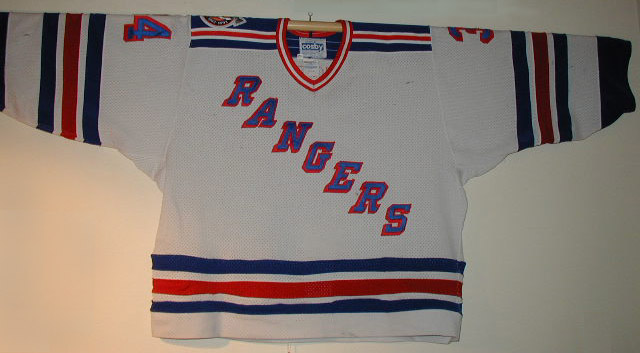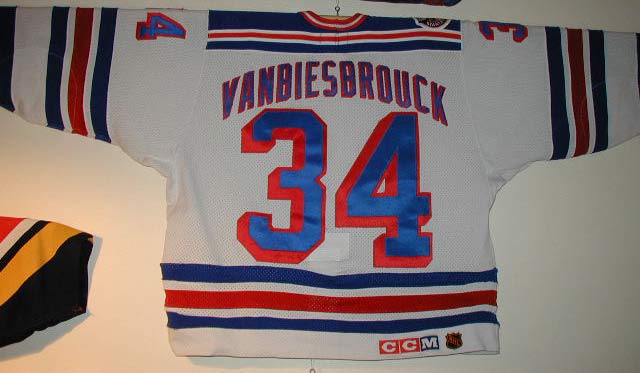 Late 80's Rangers practice jersey This practice jersey shows unbelievable wear with countless repairs all over the jersey. There is great pilling on both the interior and outside. Aquired from a forum member, originally from Brad Moore.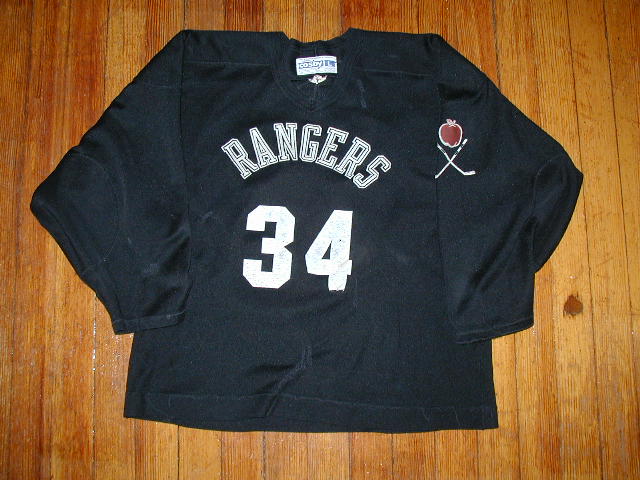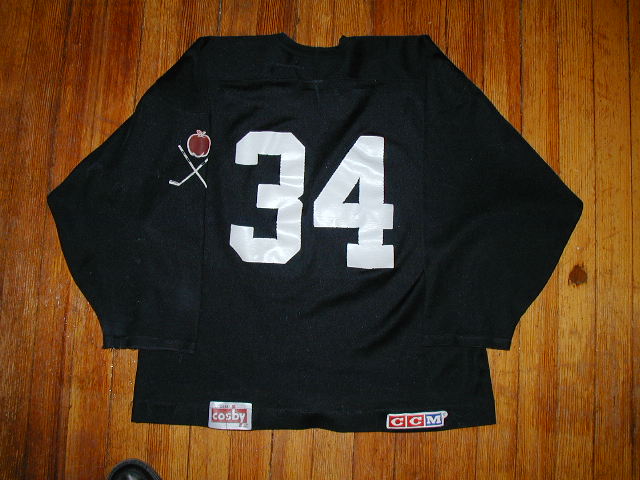 1993-94 Panthers road jersey This jersey, from the Panthers inaugural season, shows great wear. There are several repairs on the front and tons of puck and stick marks on the sleeves and body. I got this jersey through Bill Chan's auction at Christian Sports Cards.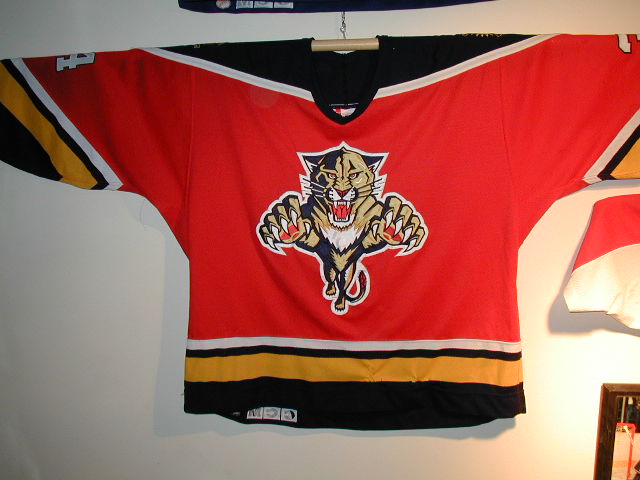 1996 Stanley Cup Finals Panthers road jersey This beautiful Vanbiesbrouck jersey is the one he wore in the 1996 Stanley cup Finals. It took much negotiation to get, and was probably over paid for, but this is a great jersey. It shows very light wear, as it was only worn for 2 games and was dry cleaned, I believe, afterwards. There is light interior pilling and pilling at the neck and sleeves. The Stanley Cup Finals Patch adorns the right chest and there is a 95-96 Potvin's Sports tag in the hem. The namplate appears to be glued and sewn on, it seems to be attached more solidly to the jersey that any other gamer I have.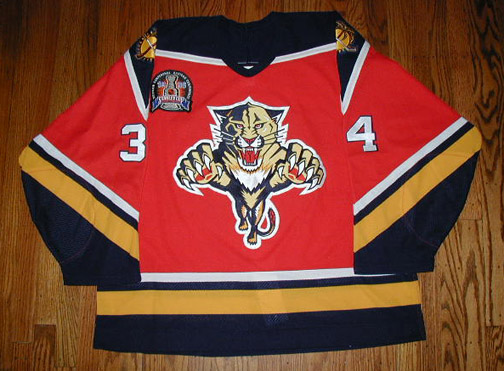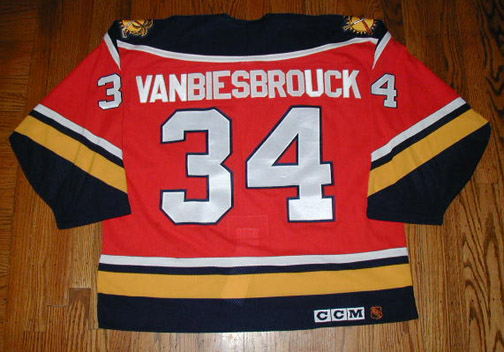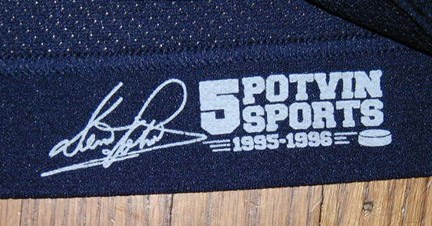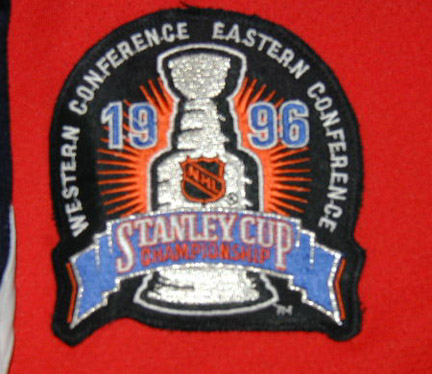 Panthers mask This is a game ready mask prepared for Vanbiesbrouck. It was won in a team auction from the Panthers. The mask is made up to the exact specifications and painted in the same style as the mask he wore. It is signed by the artist Don Straus and dated 1997.